Sharpening Services at J.Carr & Son
We off a sharpening service for the following:-
CIRCULAR SAW BLADE SHARPENING
We send our circular saw blades off to be sharpened to an outside company. Blades are collected on Mondays and returned the following Monday. Blades are sharpened on automatic machines to a high standard. On tungsten carbide circular saw blades missing teeth can also be re-tipped, before being reground. A small collection and delivery charge is also made by the outside company, which we unfortunately have to pass on to the customer.
PLANER BLADE SHARPENING
Planer blades are also sent externally to be sharpened at the same time as circular saw blades. The same weekly rotation applies. The blades are sharpened in sets in order to remain balanced. We are able to get both high-speed steel and tungsten carbide knives sharpened. Planer blades may be subject to standard, heavy or extra heavy grind depending on their state. The same collection and delivery charge applies as with the circular saw blades.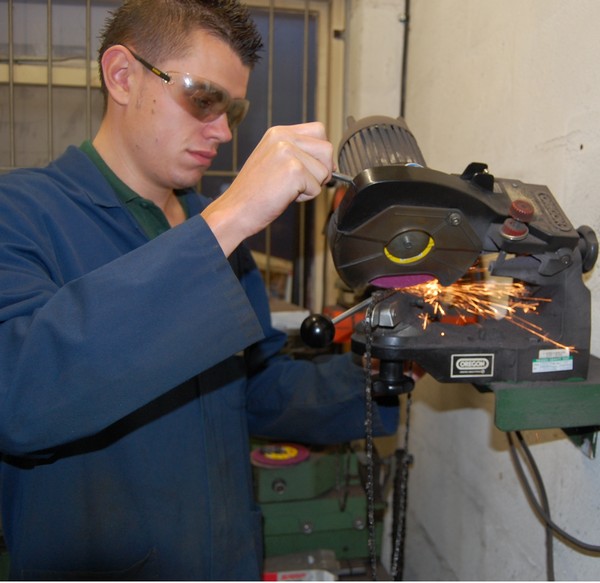 Chainsaw Blade Sharpening
CHAINSAW SHARPENING
Chainsaw chains are sharpened on site and are ready for collection the following day after 9.00am. There is an extra charge for the removal and fitting of chain that are brought on the saw. Electric chainsaws will also be subject to an electric safety test.
ROUTER BIT SHARPENING
Router bits are sent away to be sharpened along with the planer and saw blades. Router bits may be subject to a light or heavy grind as require. Bearing guided cutters also have their bearings replaced if needed. The same collection and delivery charge applies as with the planer and saw blades.

Lawnmower Blade Sharpening
LAWNMOWER BLADE SHARPENING
We sharpen all types of rotary lawn mowers and cylinder lawn mowers. Blades and cylinders can be brought in separately or on the machines for sharpening. We usually quote a one week lead time, but during busy times at the beginning of the season this will be longer. Generally blade sharpening is done at the same time as the lawn mower is serviced. We have both cylinder and bottom blade grinders on site.
HEDGE TRIMMER SHARPENING
Both electric and petrol hedge trimmers are sharpened and usually take about one week. During busy periods of the year this may be longer. Electric hedge trimmers will be subject to an extra electric safety test. Also any breaks in the electric cable will have to be repair in the workshop in order to pass the safety test.
OTHER TYPES OF SHARPENING
From time to time we get asked if we can sharpen cutting tools other than listed above. We very often we have contacts that are able to perform these jobs. It is always worth contacting us to see if we can help.